The 2019 Season is in full swing
Time flies when you're having fun hacking!  Over the past few months, we at Major League Hacking  have been working closely with organizers to help ensure you all have a great experience at any Member Event you attend. We supported 90 Member Events with more than 50,000 hackers in attendance!  
Here are few recent highlights:
Introducing the 2019 MLH Spring Hackathon Season

In addition to our 90 events in the Fall, you can expect to see more than 150 amazing Member Events in the Spring semester.  Our official North America and Europe Season Pages are updated as we continue to approve more Member Events, so be sure to keep an eye out and register early as we add many more hackathons over the next few months.
You can also follow us on Twitter and Facebook or join our Mailing List to hear about new Member Events as they are added!
A new season, a new mascot
One our most favorite aspects of planning out the new season at MLH is figuring out what mascot to have for the year!  This year, we welcome Crypto the Chameleon as our mascot.
With the help of Capital One, one of the fastest-growing tech companies out there, we have been able to showcase our mascot on our official MLH t-shirts.  Participate in one of our MLH mini-events to snatch one today!
Lots of new hacker benefits

As a Public Benefit Corporation, MLH's mission is to empower hackers. A lot of you have already had a chance this Fall to experience some of the freebies and perks available across our Member Events this season. Perhaps you had the opportunity to win 1 of the 10 prizes we are offering at each event! 
Our team wants to make sure you have access to lots of software resources like Google Cloud Platform and Domain.com .com, .net, and .org domain names while also getting to exercise your hardware chops in the MLH Hardware Lab sponsored by Digi-Key which includes awesome devices like Fitbit Ionics, hundreds of Digi-Key electronics components, and much more!  
Last year, we delivered over $300 worth of benefits and technologies to each hacker who attended an MLH hackathon. That's nearly $20,000,000 in value that we were able to bring to hackers in our community. We can't wait to top that this year, so stay tuned for our ever-growing list of hacker resources from our amazing sponsors!
Here's some of our upcoming Spring Member Events to look out for:
Which ones will you be attending?
ConUHacks IV – Montreal, QC – January 26-27th, 2019
ConUHacks IV is one of the largest hackathons happening in the heart of downtown Montreal. You have 24 hours to learn new technologies and build a creative project that will win our judges over, not to mention the opportunity to eat great food, mingle with people from the hacker community, and attend workshops hosted by representatives from some of the top tech companies in Montreal.
nwHacks – Vancouver, BC – January 26-27th, 2019
nwHacks is the largest collegiate hackathon in the Pacific Northwest, and they're beyond excited to welcome over 650 hackers for the 5th iteration of our event in Vancouver, held at the University of British Columbia!
QHacks – Kingston, ON – February 1-3rd, 2019
QHacks is Queen's University's annual hackathon. On February 1st – 3rd, 2019 join us for a wild 36 hours of design, development, and demos!
 AuburnHacks – Auburn, AL – February 2-3rd, 2019
On February 2-3, 2019, Auburn University's Computer Science and Software Engineering department will host its first Major League Hacking event. With backing from a strong engineering department and lucrative recruiting prospects, AuburnHacks will provide an exciting weekend of learning and competition for programmers around the country.
 MakeHarvard – Cambridge, MA – February 2-3rd, 2019
MakeHarvard is a 24-hour hardware-focused makeathon on Harvard's historic campus. Targeted towards designers and engineers of all disciplines, MakeHarvard provides a venue for students to build the creations of their dreams to solve the tough problems of tomorrow.
McHacks 6 – Montreal, QC – February 2-3rd, 2019
Come create, build, and play at McHacks, Canada's original collegiate hackathon, on February 2-3, 2019. It'll be a weekend to remember with beginner-to-pro workshops, decked-out hardware, delicious food, and some epic hacking.
Hack KU – Lawrence, KS – February 8-9th, 2019
Come take the yellow brick road to Lawrence Kansas where the 3rd annual Hackathon at KU is being held! The hackathon will take place from February 8th – 10th, and will be centered around a mystery theme… announced at the event. Participants will have the opportunity to network with companies, develop creative and innovative tech, and possibly win some of our many prizes.
HackHer413 – Amherst, MA – February 9-10th, 2019
HackHer413 is the first all-women and non-binary students' hackathon in Western Massachusetts, taking place at UMass Amherst, February 9th-10th! Come eat the best campus food in the U.S. and create cool tech with several hundred inspiring students.
 Hacklahoma – Norman, OK – February 9-10th, 2019
As the first MLH hackathon in Oklahoma, they're excited to be back for our second year running. The team has been working hard to make Hacklahoma even better this year, and they can't wait to see you in February!
TreeHacks – Stanford, CA – February 15-17th, 2019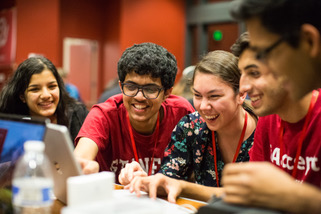 Right in the heart of Silicon Valley, Stanford's premier hackathon, TreeHacks, is coming back for its 5th year! We're rolling out three timely verticals that we're passionate about addressing problems in: Safety, Health, and Awareness. TreeHacks has some incredible speakers, mentors, workshops, and all the resources you could imagine to make the weekend both beginner and expert friendly. At TreeHacks, they don't believe hackathons are just 36 hours of coding: with sunshine, a chill community, yoga, laser tag, and delicious food, they'll take care of you as you take on improving the world.
PickHacks – Rolla, MO – March 1-3rd, 2019
PickHacks is a 36-hour, athletics themed hackathon at Missouri University of Science & Technology. The team is excited to bring over 300 students from around the Midwest for a weekend of building, collaboration, and fun!
Hack Kosice – Kosice – Slovakia – March 30-31st, 2019
Is hacking close to your heart? Then try hacking in the heart of Europe, and come to Hack Kosice! The premiere Slovak MLH hackathon is taking place on 30 – 31 March 2019 and will bring together a wide range of local and international hackers keen on programming, innovation and technology. Featuring a lot of fun activities, interactive workshops, top employers & companies, delicious food and like-minded people with the same passion for hacking as you have. See you there!
Interested in organizing a hackathon?

We know many hackers have such a transformational time at a hackathon that they want to organize one back in their own community! You can apply now for your hackathon to become a Member Event or email league@mlh.io to learn more!