As a community member excited to discover events where you can learn, build and share, we don't need to tell you twice that Hackathons are not just pizza and computer screens.
There's so much more the hackathon experience can offer you.
That's why we're delighted to share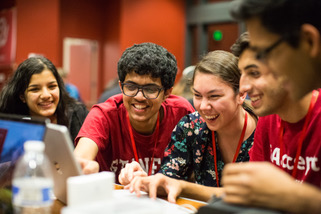 some of the ways the team over at TreeHacks have worked to develop cool resources for you to have a great time at their hackathon in 2019, which has applications open until Monday, November 19th!
Head over to their website to discover how they'll be incorporating music, cookie decorating, yoga, food, and then extend you the opportunity to build incredible projects with incredible people. All this good stuff has the MLH team and the organizing team asking: could TreeHacks perhaps be the best 36 hours of your year?
So what's happening in 2019?
Every year the TreeHacks team picks three verticals for hackers to work on, here's a preview of what you can expect:
| | | |
| --- | --- | --- |
| Safety | Health | Awareness |
| A core hope of technology is improving personal and public safety for all. From helping recovery operations for natural disasters to rethinking transportation to developing precautions for school shootings, safety offers a breadth of critical, timely problems to solve. | Health tech continues to be one of the most innovative and impactful interdisciplinary applications of technology. Explore biotechnology, medicine, and health-related fields as you hack to improve and solve some of the world's most pressing health crises. | Current events have shown that a lack of awareness can foster unhealthy discourse, divisive climates, and biased decisions. Tackle the critical challenge of increasing awareness, transparency, and exposure to inspire a better future and show technology's positive power. |
What are some notable the projects from last year?
Hackathon projects can take many forms here two particularly exciting projects include an accessible water heater that operates at 90% energy efficiency and could save 5 gallons of water per average shower! As well as a hack that lets you use a desk as a computer: where individual the pieces of paper can operate as windows!
Innovative projects like these allow you to explore your imagination; build things you find relevant and be part of the growing student hacker movement.
And don't worry if you've never hacked before because the TreeHacks organizers remember exactly what it was like to be a beginner, which is why "Beginners are, and will always be, welcomed and supported at TreeHacks."
There's naturally a lot to be excited about with so we encourage you to head over to the TreeHacks site to apply.
If you can't make it out to TreeHacks in 2019, there's a ton of other events to find near you on the season page or see if there's a Local Hack Day happening in your area on December 1st!